Instructor Guide
There are a number of activities and resources available within UR Courses that you might make use of within your course. This guide provides tips and overviews of the activities and resources currently available.
Flexible Learning
Instructional Design Support
Drop In Schedule - April 20 and beyond
When: 11 am–1 pm, 3:30pm–4:30pm (Monday to Friday)
Where: Zoom - https://zoom.us/my/ur.remote
Purpose
These drop ins are intended for instructors wanting help with any of the following supports:
Spring/Summer 2020 remote development and delivery support
Final Exam check
If you require help outside of the drop in times to construct and/or check your final exam or you have questions around how to best develop and deliver your course for Spring/Summer remote delivery, please contact IT Support by emailing IT.Support@uregina.ca or by going to the IT Support Centre where you will be referred to the appropriate staff to assist you with your question.
Note: A MINIMUM OF 48 BUSINESS DAY HOURS (not including weekends) IS REQUIRED before your exam goes live to allow for enough time to check over exams.
Note: For a growing list of resources shared within the webinars hosted by Flexible Learning, please visit the Webinars section.
For a summary of the most recent changes, please refer to the What's New section.
Additional information on remote teaching is also available on the Univeristy of Regina website.
UR Courses is currently based on Moodle version 3.6. For any additional information, you can also refer to the Moodle documentation.
General Course Management
There are a few things to generally keep in mind that will assist you with managing your course.
Communication Tools
There are a number of options available for communicating with your students.
Content
There are many ways to add content within your course.
Assessment and Activities
Additonal information is also available on the Assessment page, which is frequently updated.
More
If you haven't found what you are looking for yet, the following resources are also available.
Video Tutorial Playlist
Sit back and watch our short clips that explain how to do common tasks within UR Courses.
Available tutorial videos can be viewed directly in the playlist and are, where possible, embedded within the Guide also.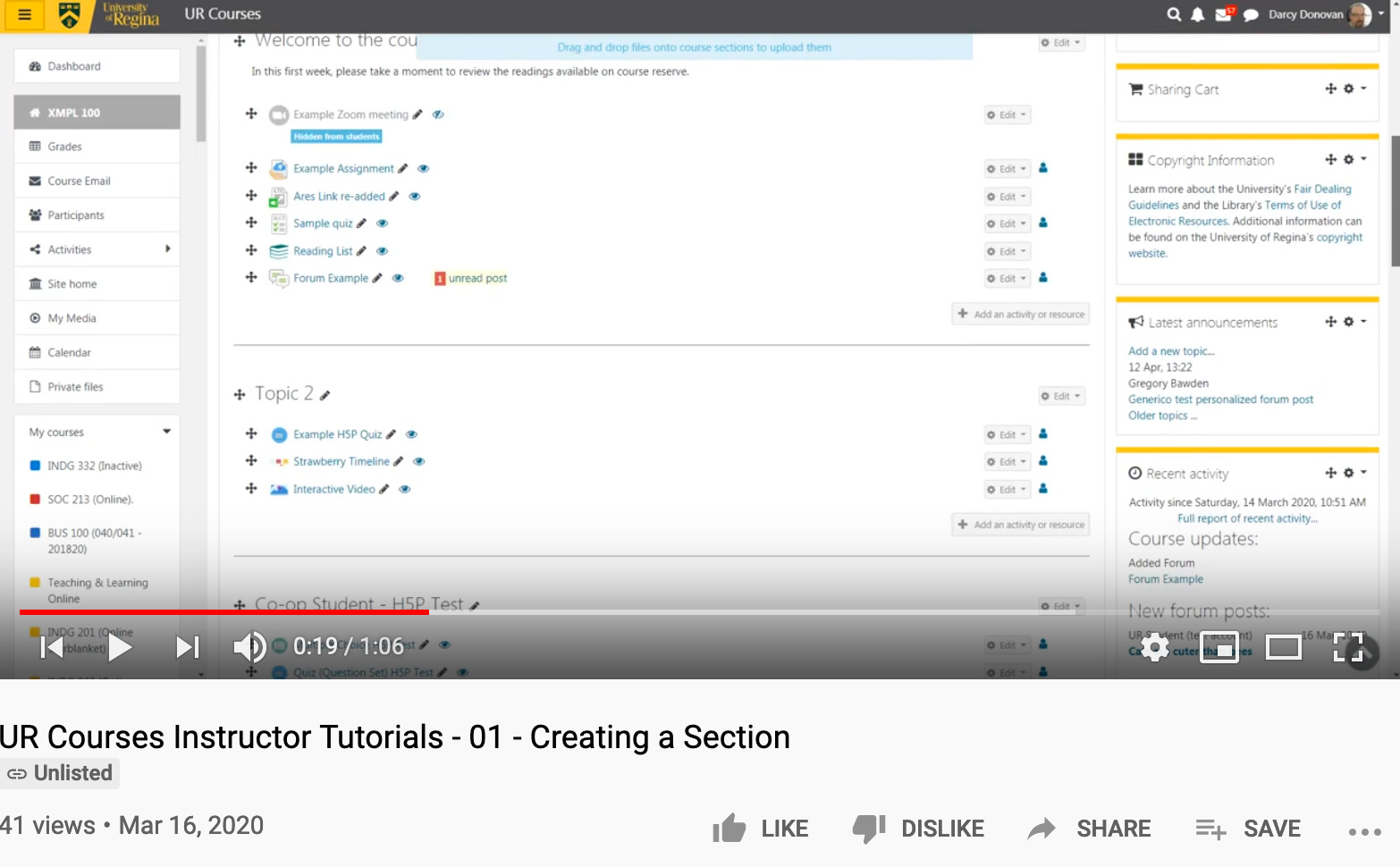 Tips
Activity Types
Resources
Blocks