Assignments
Assignment activities in UR Courses (Moodle) enable students to submit their coursework online and allow instructors to assess, grade, and provide feedback.
---
Which assignment tool is right for you?
UR Courses currently has three distinct assignment types, so how do you select the most effective one to meet your pedagogical requirements around the types of assignments that students submit and the ways in which you deliver grades and feedback? To help select the most appropriate assignment tool please refer to the comparison charts below.
The assignment types currently available include:
Assignment Basic Moodle assignment activity with numerous configuration options. This is the most robust assignment type, but it can be complex due to the number of configuration options available.
Turnitin Plagiarism Plugin The Turnitin Plagiarism Plugin can be enabled for an Assignment activity, which then adds Turnitin functionality to the wide range of configuration options available. Using this option allows for group submissions, blind marking, providing feedback files, etc., which are not possible when using the simpler Assignment (Turnitin) activity type.
Assignment (Turnitin) A basic Turnitin assignment activity. It is simple to configure but does not support as many options as the Assignment activity.
Assignment (Media) The Assignment (Media) activity let's you create assignments that require students to upload and submit video which is stored on a local Kaltura CE server hosted on-campus. Instructors can view, grade, and provide feedback for each student's media submission.
Comparing Moodle's Assignment Types
The table below highlights the differences between assignment types within UR Courses.
Pros

Assignment
Assignment (Turnitin)
Assignment (Media)

Supports a variety of submission types, including online text (with optional character limit), single or multiple files, images, etc.

Can be configured for individual or group submissions (using Moodle's Groups feature)

PDF file submissions can be marked up within the browser

Supports using an offline grading worksheet

Download all submissions at once

Provide feedback files and/or comments when grading

Supports advanced grading using a Marking Guide or Rubric

Supports anonymous or blind marking

Supports marking workflow to control release of grades or coordinate multiple markers

Allows for late submissions if desired

Supports using Turnitin for originality checking and Feedback Studio

Simple configuration; limited options

Easily upload submissions on behalf of students

Allows for late submissions if desired

Allows online grading in Feedback Studio

No file size restrictions as videos are hosted on our Kaltura CE streaming server

Accepts a variety of video formats that will become playable within the browser

Video submissions can only be played within UR Courses; they can't be linked to or shared

Submissions cannot be altered or deleted by students once submitted

Caution/Notes

Assignment
Assignment (Turnitin)
Assignment (Media)

Numerous settings to consider and be aware of

Should not be used for video submissions because of upload limit. Video submissions may not play within the browser and have to be downloaded instead. The Assignment (Media) activity is recommended for accepting video submissions.

Does not allow for returning feedback files

Does not support blind marking

Submissions must be downloaded individually

Requires workarounds to be used with group submissions

Not generally available; request access by emailing flexible.support@uregina.ca.

Uploads are not currently possible from tablets or mobile devices
---
Assignment activity
The Assignment activity module enables an instructor to communicate tasks and collect work, as well as provide grades and feedback.
Students can submit digital content (files), such as Word documents, spreadsheets, images, audio, video, etc., depending on the assignment activity type and configuration. Alternatively, or in addition, the assignment may be used to require students to type text directly into a text editor, making it possible to restrict the number of characters for a submission. An assignment can also be used to remind students of 'real-world' assignments they need to complete offline, and thus not require any digital content submissions. Depending on the selected configuration, students can submit work individually or as a group, using Moodle's group functionality.
When reviewing assignments, instructors can leave feedback comments and upload files, such as marked-up student submissions, documents with comments, or audio feedback. Assignments can be graded using a numerical or custom scale, or by using an advanced grading method such as a rubric. Grades entered for an assignment will automatically appear within the gradebook.
Assignment Settings
General:
Type the Assignment name.
Type the Description including instructions and details regarding the assignment. It is important to be detailed. You may want to copy and paste from your syllabus to avoid confusion.
Put a check mark on Display description on course page to display the description in the course page for students.
If there are additional files, drag and drop those into the file upload box.
Availability settings:
Choose the dates: When to allow submissions to begin, the due date and the cut-off date for late assignments. If these are not enabled, the assignment will be ongoing.
Always show description: If this option is not selected, students will not see the assignment description until the submissions are allowed.
Submission types:
Submission types: Choose the desired type of submissions. File submissions allow students to upload a file as their submission. Online text allows students to type submissions directly into Moodle.
Maximum number of uploaded files: Choose the number of files that can be uploaded. It is recommended to set this number higher than the number of files you want students to submit.
Maximum submission size: Students can upload files to a maximum of 16 MB.
Word limit: Limit students word count. This option is only available for online text.
Feedback types:
Feedback comments: If enabled, the marker can leave feedback comments for each submission.
Feedback files: If enabled, the teacher will be able to upload files with feedback when marking the assignments. This must be enabled if you intend to upload a file with track changes.
Offline grading worksheet: If enabled, the teacher will be able to download and upload a worksheet with student grades when marking the assignments.
Comment inline: If enabled, the submission text will be copied into the feedback comment field during grading, making it easier to comment inline (using a different colour, perhaps) or to edit the original text.
Submission settings:
Require students click submit button: If enabled, students will have to click a Submit button to declare their submission as final. If disabled, when the assignment closes, all submissions will be submitted.
Require that students accept the submission statement: Require that students accept the submission statement for all submissions to this assignment.
Attempts reopened: Determines how student submission attempts are reopened. The options are:

Never - The student submission cannot be reopened.
Manually - The student submission can be reopened by a teacher.
Automatically until pass - The student submission is automatically reopened until the student achieves the grade to pass value set in the Gradebook (Categories and items section) for this assignment.

Maximum attempts: The maximum number of submissions attempts that can be made by a student. After this number of attempts has been made the student's submission will not be able to be reopened.
Group submission settings:
Students submit in groups: If enabled students will be divided into groups based on the default set of groups or a custom grouping. A group submission will be shared among group members and all members of the group will see each other's changes to the submission. Unless groups have been created within UR Courses, do not use this option. Note that if you use this setting, you should not change the members of these groups during the semester.
Require group to make submission: If enabled, users who are not members of a group will be unable to make submissions.
Require all group members submit: If enabled, all members of the student group must click the submit button for this assignment before the group submission will be considered as submitted. If disabled, the group submission will be considered as submitted as soon as any member of the student group clicks the submit button.
Grouping for student groups: This is the grouping that the assignment will use to find groups for student groups. If not set - the default set of groups will be used.
Notifications:
Notify graders about submissions: If enabled, teachers will receive a message whenever a student submits an assignment.
Notify graders about late submissions: If enabled, graders (usually teachers) receive a message whenever a student submits an assignment late.
Default setting for "Notify students": Set the default value for the "Notify students" checkbox on the grading form.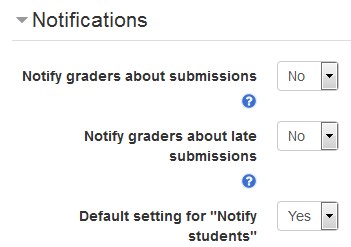 Grade:
Grade: Select the type of grading used for this activity. If "scale" is chosen, you can choose the scale (pass/fail, satisfactory or separate and connected ways of knowing) from the "scale" dropdown. If using "point" grading, you can then enter the maximum grade available for this activity.
Grading Method: Choose the advanced grading method for calculating grades in the given context. To disable advanced grading and switch back to the default grading mechanism, choose 'Simple direct grading'.
Grade category: This setting controls the category in which this activity's grades are placed in the gradebook.
Grade to pass: This setting determines the minimum grade required to pass.
Blind marking: Blind marking hides the identity of students from markers. Blind marking settings will be locked once a submission or grade has been made in relation to this assignment.
Use marking workflow: If enabled, marks will go through a series of workflow stages before being released to students. This allows for multiple rounds of marking and allows marks to be released to all students at the same time.
Use marking allocation: If enabled together with marking workflow, markers can be allocated to particular students.
Common module settings:
Visible: Show will make the assignment visible for students. Hide will make it invisible for students.
ID number: Setting an ID number provides a way of identifying the activity for grade calculation purposes.
Group mode: The group mode defined at course level is the default mode for all activities within the course. Each activity that supports groups can also define its own group mode, though if the group mode is forced at course level, the group mode setting for each activity is ignored. This setting has 3 options:

No groups - There are no sub groups, everyone is part of one big community.
Separate groups - Each group member can only see their own group, others are invisible.
Visible groups - Each group member works in their own group, but can also see other groups.

Grouping: A grouping is a collection of groups within a course. If a grouping is selected, students assigned to groups within the grouping will be able to work together.
Restrict access:
Restrictions that can be added are: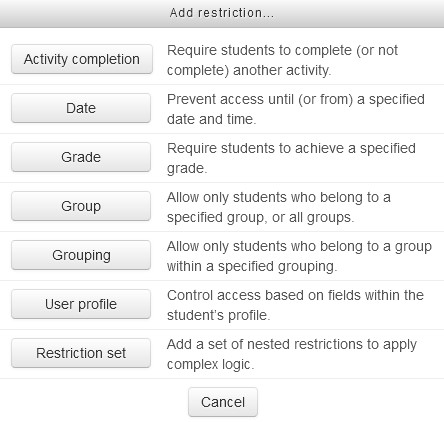 Activity completion:
Completion tracking: If enabled, activity completion is tracked, either manually or automatically, based on certain conditions. Multiple conditions may be set and the activity will only be complete when ALL conditions are met. A tick next to the activity name on the course page indicates when the activity is complete.
Require view: Students must view the activity to complete it.
Require grade: If enabled, the activity is considered complete when a student receives a grade. Pass and fail icons may be displayed if a pass grade for the activity has been set.
Expect completed on: This setting specifies the date when the activity is expected to be completed. The date is not shown to students and is only displayed in the activity completion report.
Managing Assignment Submission
To grade an assignment:
Login and select the course title.

Select the assignment name on the course page.

Details of the assignment appear:

Participants: number of participants in the course.
Submitted: number of participants in the course who submitted their assignment.
Needs grading: number of participants that have not received a grade.

Click on View/grade all submissions.

The Status Column is where the status of the assignment is located.

Click the title of the submission to view the student submission. To upload feedback to the student, track changes within the document and save a copy.

Click Grade to enter grades and feedback for the student as well as upload a file back to the student.

To input comments for the student, enter them in the Feedback comments section.

If you made comments in the file itself, to return the file to the student, attach the file in the Feedback Files section.

When all changes have been made, select Save changes.

To move to the next student click the blue arrow in the top lefthand corner.
To download all assignment submissions:
Login and select the course title.
Select the assignment name on the course page.
Details of the assignment appear. In the grading action menu, choose Download all submissions.
A zip file will download. Open the file and click Extract and Extract all.
Mark students' submissions.
---
Annotation
Assignments configured to accept File submissions within the Submission types setting, and the Annotate PDF option within the Feedback types setting, are available for annotation from within the browser.

The Libre Lambda Document Converter has been enabled and configured to convert student assignment submissions into PDF files for annotation from within the assignment grader interface. This does not replace the original submission, but allows for PDF annotation from within the browser.
The following file types are currently supported for conversion to PDF for annotation:
doc, docx, rtf, xls, xlsx, ppt, pptx, html, odt, ods, txt, png, jpg, gif, pdf
Additional information on annotating submissions is available within the Moodle docs.
Once annotations are saved, the annotated PDF will be available to the student as part of their feedback on the assignment. The student can access this feedback from the assignment page itself. The feedback can be downloaded as a PDF document, or viewed inline within the browser.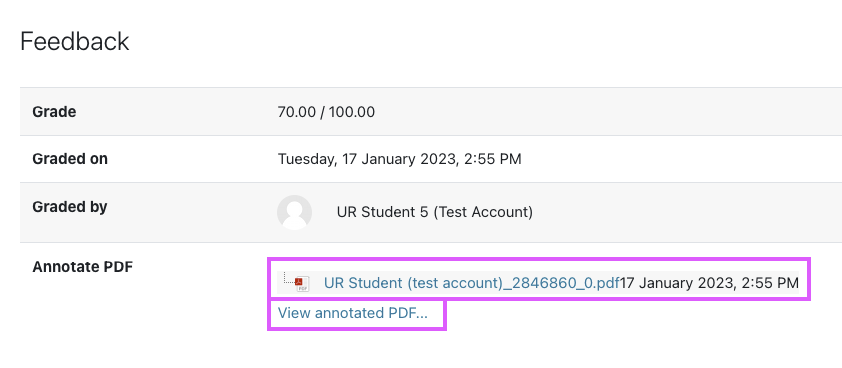 When downloaded as a PDF, comments are appended to the last page of the document, and linked to from elsewhere within the document itself.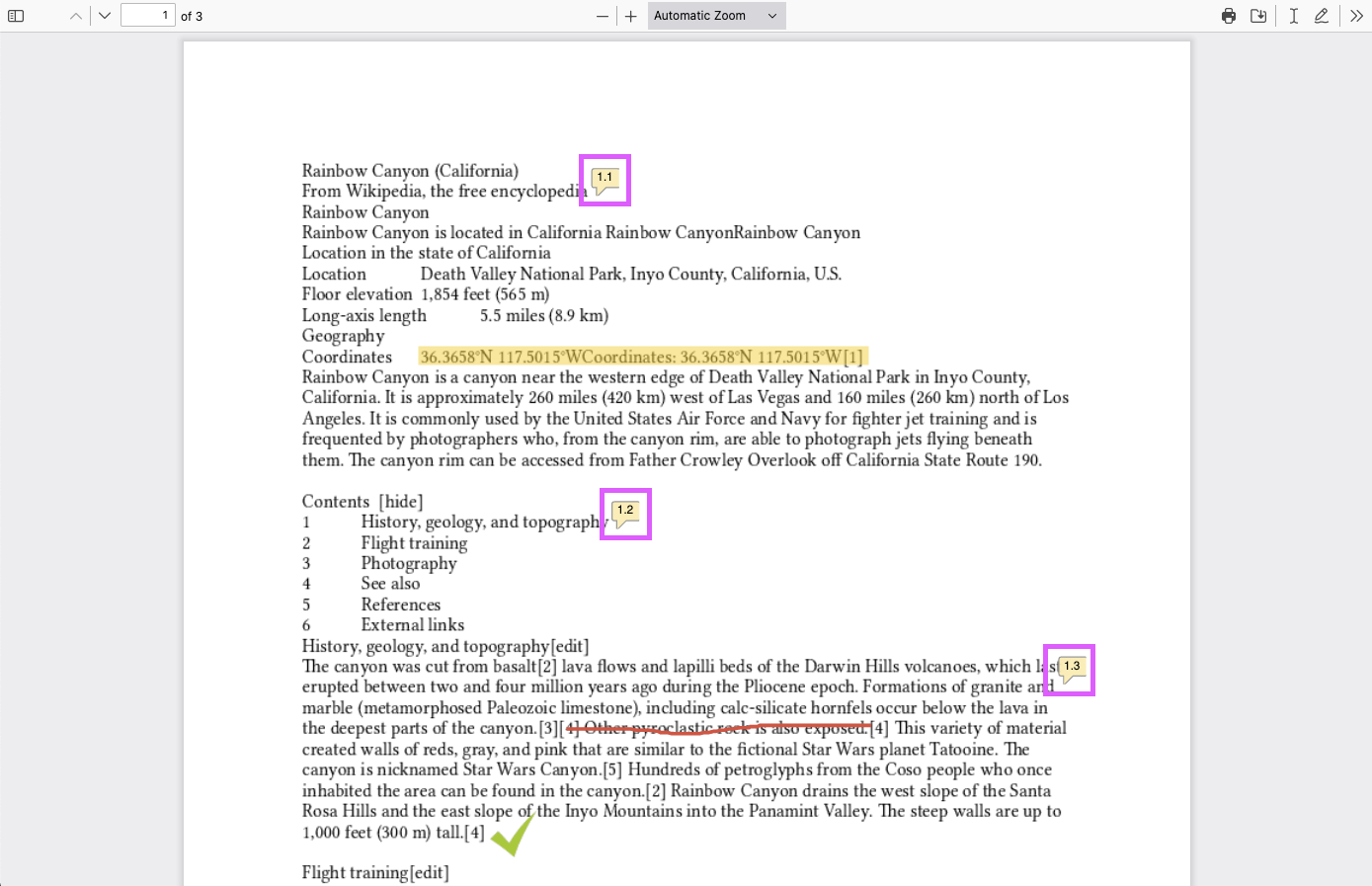 When the annotated PDF is viewed inline, comments expand upon interaction, or can be toggled on and off by using the Expand/Collapse all comments button, (highlighted in the screenshot below).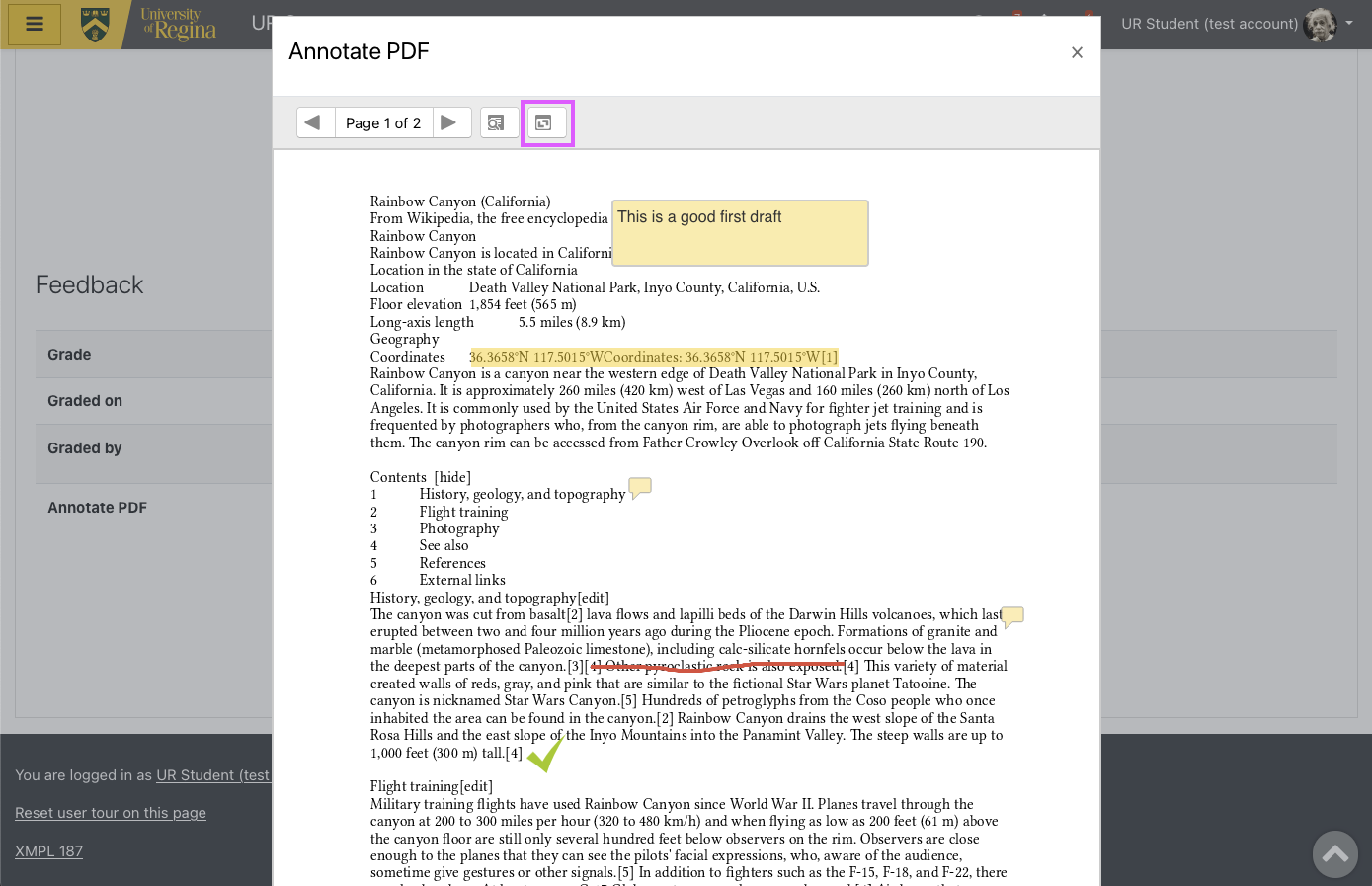 ---
The Assignment (Turnitin) activity enables you to create a Turnitin assignment within your course using the Turnitin Moodle Direct V2 plugin. This links an assignment activity in Moodle to an assignment or assignments with Turnitin.com. Once linked, the activity allows instructors to assess and provide feedback for student's written work within UR Courses while using the assessment tools available within Turnitin's Document Viewer. The assignment(s) can also be accessed through Turnitin.com or by using the Turnitin app for iPad.
If you are interested in accessing this integration, please contact flexible.support@uregina.ca.
---
The Kaltura Media Assignment activity let's you create assignments that require students to upload and submit media which are stored on the U of R Kaltura Premium server. Instructors can view, grade, and provide feedback for each student's media submission.
---