Screen Recording Software
The University of Regina uses Kaltura for streaming and hosting institutional media. The Kaltura Capture application is recommended for making screen recordings that include your desktop and/or webcam. Kaltura Express Capture allows you to quickly record audio or video from within your web browser.
Kaltura Capture
Kaltura Capture has a simple user interface, requiring only one click to record, without complex setup or a lengthy learning curve. Kaltura Capture automatically uploads new media which can be accessed through My Media in either MediaSpace or UR Courses. You can record two camera inputs at once, two screens, or a camera and a screen.
Kaltura Capture is supported on both Windows and Mac, and includes features such as: * Screen and webcam capture in one click * Automatic slide detection and creation of searchable chapters * Automatically uploads to My Media Download the Kaltura Capture application from within MediaSpace or My Media within UR Courses.
---
Kaltura Express Capture
Kaltura Express Capture enables recording content directly from the browser without the need to install any additional software.
To use Kaltura Express Capture:
Log in to MediaSpace or UR Courses
Navigate to My Media.
Click Add New and select Express Capture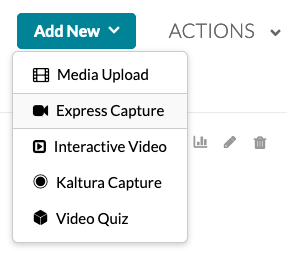 ---
Other options
Depending on your platform and budget, the following are some of the options recommended for producing screen recordings for your course.
Active Presenter
https://atomisystems.com/activepresenter
Very capable screen recording and editing software for either Mac or PC. Free version available for personal and non-commercial use.
Camtasia
http://discover.techsmith.com/camtasia-brand-desktop
Popular and powerful screen recording software for either Mac or PC.
Screenflow
https://www.telestream.net/screenflow
Popular and powerful screen recording software for the Mac only.
Other Alternatives
Zoom
While primarily intended for web conferencing, Zoom can be used to create basic screen recordings by recording a meeting while sharing your screen. For further details, please refer to our page about Zoom for instructors.
Screencast-O-Matic
https://screencast-o-matic.com
Simple screen recording software with limited features. Free version includes a watermark in the recordings. Pro version available.
Microsoft Story Remix
Avaliable for Windows 10.
Windows Movie Maker
If you are on an older version of Windows, Windows Movie Maker allows you to record and edit video with some basic features.
iMovie
Basic video editing application included with the Mac OS.
Quicktime Player
Included in the Mac OS, Quicktime player allows you to make screen recordings and apply minor edits.
---